Arisaig Fisheries Limited
Brenda MacDonald's company, Arisaig Fisheries Ltd, has been in operation since 1976. The Arisaig Fisheries plant in Arisaig, Antigonish County processes groundfish and is home to their holding tanks for lobster, as well as their head offices. They also own and operate a large lobster processing plant in Lismore, Pictou County which has been running since 1984.
Together, the two plants employ approximately 100 people. The lobster processed at the Lismore plant is sold in a variety of forms. Some of the types of processed lobster they sell are: lobster meat frozen in cans, frozen whole cooked lobster and frozen, raw lobster tails. Their products are shipped mostly to the United States, Europe and Japan, although they also sell to local supermarkets and restaurants as well. Container ships that leave Halifax Harbour deliver their products to ports around the world.
The plant buys from many different wharfs in Lobster Fishing Area 26A. Although they only process lobster from this LFA during May and June, they are open all year round, processing lobster from other areas, such as Maine in the United States. They also process herring, scallops and shrimp.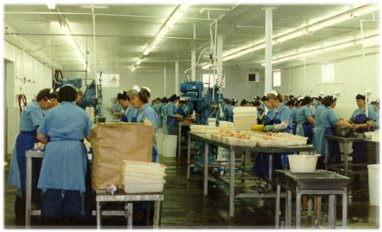 A busy place: a shot of the main processing room in Lismore.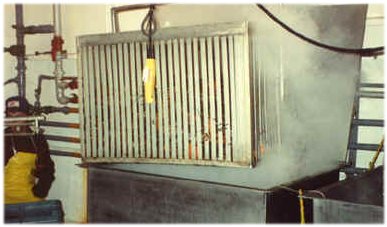 The first stop for the lobsters when they enter the plant: the boiler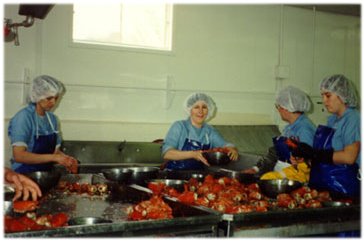 After boiling the next step in the process is breaking apart the lobster

Employees picking the meat
from the shells


Employees cleaning the lobster.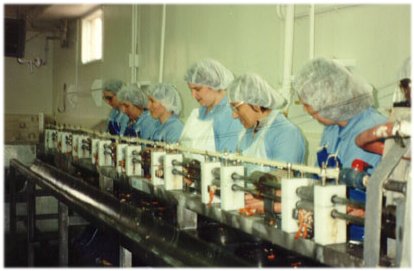 An assembly line of employees using a wringer like machine to extract the meat from the legs of the lobster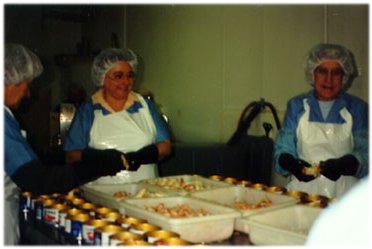 Putting the meat in the cans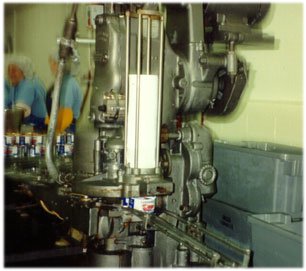 One of the last steps in the process: putting the lids on the cans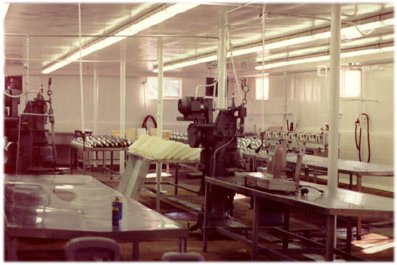 The main processing room after hours