Northumberland Fish Co-operative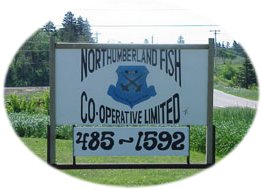 In May 1999, the Northumberland Co-op was formed at Toney River with Doug Floren being appointed as director. Thirty-seven fishermen from Skinnerís Cove, Cape John, Toney River and Pictou Ferry wharf are now joint shareholders of Northumberland Fish Co-operative Ltd, and sell their catch jointly to a plant in Shediac, New Brunswick.
A truck from the Co-op, owned by the plant in New Brunswick, travels to these wharves to collect the memberís catches. It then brings them back to the building later on in the day and transfers them to another truck that takes them to the plant. Bait is ordered and brought to the Co-op and then delivered daily to the Co-op members out at the various wharves.
The Co-op was formed after some local fishermen had problems with independent buyers who had cheated them in earlier years. By forming the Co-op they were protecting themselves from something like this happening again. They bought a large, steel building bordering the Toney River wharf, with intentions to turn it in to a processing plant. Their plans were stalled when the government refused to give them a license citing, among other reasons, there were too many plants in the province already. They still have intentions to build the plant and are working hard on trying to get government approval.
Images of Northumberland Fish Co-op Ltd.