Lobster Fishing on the North Shore
Southern Gulf of St. Lawrence / Lobster Fishing Area 26A / Fishing Ports
The Maritime Provinces, Nova Scotia, Prince Edward Island (P.E.I.) and New Brunswick, are located in eastern Canada on the Atlantic Ocean seaboard. Maritimers have been harvesting the bounty of the sea from villages along the miles of these shorelines for generations. The American lobster, or as it's called in this neck of the woods, the "Atlantic lobster", is a favoured dish that has been fished from these seas for hundreds of years.
Warm waters and warm people make the Northumberland Strait area of Nova Scotia famous! All along the north shore, tiny fishing villages dot the coastline, where the gently rolling hills meet the sparkling blue waters of the Northumberland Strait. This body of water separating Nova Scotia and Prince Edward Island makes up a large part of the southern Gulf of St. Lawrence and is an ideal habitat for the tasty lobster that is served up in restaurants and at church suppers all along this shore.
Along the north shore you will find many fishing ports where families, friends and neighbors fish side by side season after season. Lobster Fishing Area 26A, which covers Antigonish, Pictou, Colchester, and a small part of Cumberland County, is one of the five designated areas making up the southern Gulf of St. Lawrence district. Around the River John area there are three busy lobster fishing ports: Toney River, Skinner's Cove and Cape John.
Besides the busy fishing ports located along the North Shore there are a number of processing plants that clean, package and ship the lobster around the world. Arisaig Fisheries Ltd is one such plant.
The southern Gulf of St. Lawrence, includes the waters along the eastern shore of New Brunswick, the north shore of Nova Scotia (including eastern Cape Breton) and the waters surrounding Prince Edward Island, and is estimated to be 16, 410 km2 in size.
Home to five Lobster Fishing Areas (LFAs), the southern Gulf of St. Lawrence is one of the many large districts in the Maritimes that has a thriving lobster industry.
LFAs 23, 24, 25, 26A and 26B are the districts that make up the southern Gulf of St. Lawrence. The fisheries management regime for the southern Gulf area is based on these five LFAs, as well as two major fishing seasons, two minimum carapace sizes at capture, and two numbers of traps/fisher. (As of the year 2000)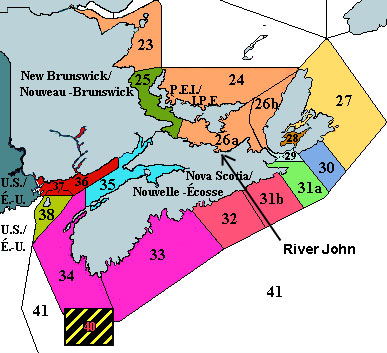 Map from Department of Fisheries and Oceans website: www.gfc.dfo.ca

LFA 23


Number of licenses: 743


Minimum size: 67.5mm (2 21/32 in.)


Number traps/fisher: 300


Season: May and June

LFA 24


Number of licenses: 635


Minimum size: 66.7mm (2 5/8 in.)


Number of traps/fisher: 300


Season: May and June

LFA 25


Number of licenses: 766


Minimum size: 67.5mm (2 21/32in.)


Number of trap/fisher: 300


Season: Mid-August to beginning of October

LFA 26A:
See Below

LFA 26B


Number of licenses: 253


Minimum size: 70.0mm (2 3/4in.)


Number of traps/fisher: 300


Season: May and June

Interesting Facts!
In the southern Gulf of St. Lawrence there are 3,252 fishing enterprises or license holders and an estimated 951,425 lobster traps.

If you were to place these 951,425 lobster traps end to end one could walk from Edmonston, New Brunswick to North Sydney, Nova Scotia!! A total of 1,050 km!

Each year lobster fishermen in the southern Gulf land approximately 18,000 metric tons of lobster. This is the equivalency of 2,535 school buses!!

Based on 1999 data from the Department of Fisheries and Oceans Canada.
This area takes in the region from Pugwash, Cumberland County to Havre Boucher, Antigonish County as well as eastern Prince Edward Island. In the Nova Scotia region of LFA 26A the 351 licensed lobster fishermen (175 of them in Pictou County) landed 3.5 million pounds of lobster worth a value of $18.6 million in the 1999 season.

FACTS


Number of licenses: 766


Minimum carapace size: 66.7mm


Number of traps/fisher: 300


Season: May and June

Legal size

In LFA 26A a lobster's carapace (hard shell that covers the lobster's body) must measure 66.7 mm (two and five-eighths inches) in order for it to be of legal size. However, some regions in this district such as the fishing ports west of Cape John and east of Lismore have increased this size further to 70mm (two and three quarter inches). In 2001 the minimum carapace size for LFA 26A will be increased to 67.5mm.

For a lobster to be legal it also cannot be carrying eggs, and it must have a 'pristine' flipper to the right of the center flipper, showing no V-notch, grooves or indents of any kind.

The Department of Fisheries and Oceans Canada has introduced measures such as these to aid in the conservation of the lobster population of the southern Gulf.

Based on 1999 data from the Department of Fisheries and Oceans Canada

Fishing Ports of Northern Nova Scotia

Here are just some of the many fishing ports located on the Northumberland Strait in northern Nova Scotia:

Antigonish County
Point Tupper
Barrio's Beach
Bayfield
Morristown
Cape Jack
Malignant Cove
Mulgrave
East Tracadie
Pomquet
Cribben's Head
West Tracadie
Arisaig
Auld Cove
Monastery
Southside Harbour
Cape George
Antigonish Harbour
Lismore
Havre Boucher
Tracadie
Monk's Head
Ballantyne's Cove
Livinstone Cove
Pictou County
Big Island
Little Harbour
Pictou
Pictou Island
Pictou Landing
Caribou Island
Toney River
Skinner's Cove
Cape John
Colchester and Cumb
erland Counties
Malagash Point
Malagash


East Wallace




Wallace




Gulf Shore




Tidnish

Pugwash Point
Pugwash
Port Phillip
Port Howe
North Port

The village of River John is situated on a river, not actually on the ocean, therefore there are no fishing ports located in the village. However, there are three wharfs located outside the village at Cape John, Skinner's Cove and Toney River. The majority of fishermen from the village and the surrounding area fish at one of these three wharfs. During lobster season the fishermen are busy from dawn to dusk with numerous tasks. Whether it be maintaining the boat, the wharf, or equipment, selling lobster or fishing for it, there is always something for a fishermen to do during the lobster season.
One of these busy fishermen is Ronnie Heighton who fishes at the Cape John wharf. He has been fishing with his boat the "Annett Marie" since 1965, and has spent more then a decade as the president of the Fishermen's Association. The Fishermen's Association is a council that acts as a liaison between the Department of Fisheries and the fishermen in the area, and has been around since the 1970's. The Association covers the area from Pugwash to Lismore and is one of four associations in the southern Gulf. There are 9 board members and a large number of general members who represent the many different fishing ports along the North Shore. They meet when it is needed to discuss various issues.
Cape John Wharf
The River John empties out into John Bay and is sheltered from the Northumberland Strait by a 10km stretch of land called Cape John. At the very end of the Cape facing the bay sits the L-shaped wharf where 15 boats are moored. On a windy day it is fun to drive down to the wharf and watch the large waves crashing up against the breakwater. On a sunny day the beach nearby is a great place for a picnic or a swim. From the end of the Cape you can see the whole bay and the surrounding area. The Cape John Harbour Authority is presently working on replacing the 50-year old wharf.
Skinner's Cove Wharf
Skinner's Cove wharf is located on the "Backshore" road, a gravel road that connects Melville Corner to Cape John. The clear blue waters of the Northumberland Strait wash the shores and high, jagged cliffs rise up to meet the skies. It is a favorite place for locals to swim, walk and picnic. On clear days one might be able to catch a glimpse of the ferry crossing from Caribou to Prince Edward Island. The twelve boats at Skinner's Cove are moored to two docks, separated by a small, narrow channel.
Toney River Wharf
Toney River, a community located between Pictou and River John on the Sunrise Trail (Route 6), has one of the most photographed wharfs along the Northumberland Strait. If you want to see what goes on at a wharf during lobster season stop by Toney River and have a look. The boats start coming in usually between 10:00am and 2:00pm. You can walk either side of the wharf and watch as the lobsters are weighed and crated. You might even be lucky enough to buy some for your dinner!