1884 saw the launching of Pictou County's largest sailing ships, both products of River John shipyards. First in size was Captain James R. Kitchin's full-rigged ship, Warrior, of 1611 tons, slightly exceeding in size Archibald MacKenzie's ship, Caldera, of 1575 tons. The Warrior of 1884 was the second Kitchin built to that name. In 1864 he had launched the barque Warrior of 617 tons.
The Warrior's three lofty masts, changed from wood to steel, each bore double-top gallant yards and sky sails, meaning that each mast bore seven sails instead of the customary five. She was one of the few Nova Scotia ships to have an enclosed wheelhouse.
In a favourable wind and sea she could cruise at twelve knots. From her launching in 1884 until sold to an Italian company in 1900, she was frequently commanded by her builder, Captain Kitchin. A shipbuilding merchant, master mariner, and leading citizen of the River John community, he was Warden of the Municipality of Pictou County, 1896-98.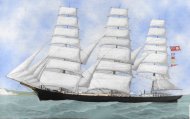 Captain James R. Kitchin's
full-rigged ship, and
Pictou Counties largest,
Warrior, of 1611 tons.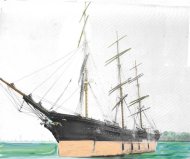 Archibald Mackenzie's ship,
Caldera, of 1575 tons