Sense of Place: you, your community, your library, your work
Over the years, libraries have evolved from storehouses of books to community spaces. The Conference 2016 theme of Sense of Place will explore and celebrate the important place that libraries occupy in our communities, and as our place of work.
The concept of place is very inclusive. Conference sessions will explore the role of libraries as places of discovery and innovation, as welcoming spaces for users of all ages, and interests – for the public/patron/users we serve, including ourselves!
The library is not simply a physical place; it is also a place of being. The Sense of Place theme draws upon the concept of exploring the idea/being of place through the five senses, and through time. Libraries are a wealth of sensory experiences, from programs that explore food, the great outdoors and public art (sight, taste and smell) to collections that incorporate Braille and audiobooks (touch and hearing). Libraries are evolving – our buildings, programs, service outreach and staffing requirements, and how are we adapting to the change? We do so with sharing innovative ideas in our profession, building great partnerships, fostering collaborative opportunities and encouraging community development.
Kristel Fleuren-Hunter 2016 NSLA Conference Convenor
We, the Library Boards of Nova Scotia (LBANS) welcome you to the 2016 NSLA/LBANS Conference. May your time with us this weekend be a profitable one for the knowledge that you acquire and take back to your respective libraries, and for friendships that will be renewed as you attend the different events. We thank each and everyone for the valuable knowledge that you impart to others.

Ruby McDorman, President Library Boards of Nova Scotia




On behalf of the Board of Directors of the Nova Scotia Library Association, welcome to the 2016 Annual Conference! We are delighted that you are here this weekend. We are certain that this year's Conference will be a good and informative professional development experience, one that introduces new ideas and allows you to share knowledge and practices with others. We hope that this year's Conference theme – Sense of Place: you, your community, your library, your work – resonates with you and positively affirms the collegial and allied reality of who we are and what we do with where we live and work. For this weekend, in this beautiful place by the water and surrounded by the splendor of nature, we hope you will relax, have fun, and enjoy the outdoors and the leisure experiences offered. Thank you for coming, and have a great Conference!

Cindy Lelliott, President Nova Scotia Library Association (NSLA)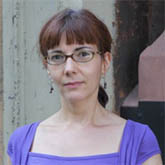 Keynote Speaker
Elena Madison
Project for Public Spaces
Vice President at Project for Public Spaces and a veteran of Placemaking. She is an urban planner with rich experience in the planning and design of parks, plazas, campuses, civic and cultural institutions.