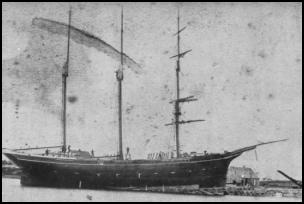 Barquentine Argentina (155.7 x 36.0 x 20.8 feet, 583 tons), built at River John in 1890. 'The barquentine Argentina commanded by Captain Reynold of Hastings, arrived in Pictou last Thursday from River John where she was recently launched. She is a pretty vessel, 590 tons, and pronounced by competent judges to be a beautiful model. The Argentina is owned by Mr. Archibald MacKenzie, builder, River John and Mr. D. Sutherland of Pictou. She will likely load coal in Cape Breton for the United States.' (November 2 1890) Collection of Mr. C. E. MacKenzie, Halifax (Excerpt taken from "Ships of the North Shore," compiled by Phyllis R. Blakeley and John Stevens.)
The "Argentina" was considered the closest thing to a "clipper" ever built in Nova Scotia. A barquentine of 590 tons, she was deliberately built for speed, with the lines of a yacht, and was probably the fastest sailing vessel ever built in Pictou County, perhaps in the Province. She broke the record previously held by an American vessel, for sailing from Buenos Aries to New York, a trip of 32 days, with a top speed of 400 miles per day.

However, the Argentina was considered an unlucky vessel, During her construction one of the workmen, David Langille, was killed while unloading a spar. At her launch, the ways collapsed and she stuck halfway down the launchway. When makeshift tackles were rigged to get her moving again, the heavy iron sheave from one of the blocks broke under the strain, flew off and struck Archibald MacKenzie, breaking his leg. On her maiden voyage, leaving Pictou Harbour, she collided with another vessel and was forced to turn back for repairs. More than once a life was lost at sea aboard the Argentina (Ships of the North Shore).