A cenotaph is a monument or tomb built to honour of a person or group of people whose remains lie elsewhere. The word originates from the greek words kenos, one meaning "empty" and taphos, "tomb". Many cenotaphs pay tribute to people whose remains have never been located such victims lost at sea, in wars, and in natural disasters.
The cenotaphs present in the Antigonish region honour those that have fought in wars. The cenotaphs erected in the town and in the communities of Tracadie and Havre Boucher portray a common message of hope, respect, honor, freedom.

Antigonish WWI Cenotaph »
On November 11, 1937, the World War One Cenotaph located in the town of Antigonish was unveiled by Mrs. J.H. Stewart. The monument was constructed on site during October and November of 1937. The tribute that is featured on the cenotaph was composed by K.M. MacDonald, a teacher at Morrison School.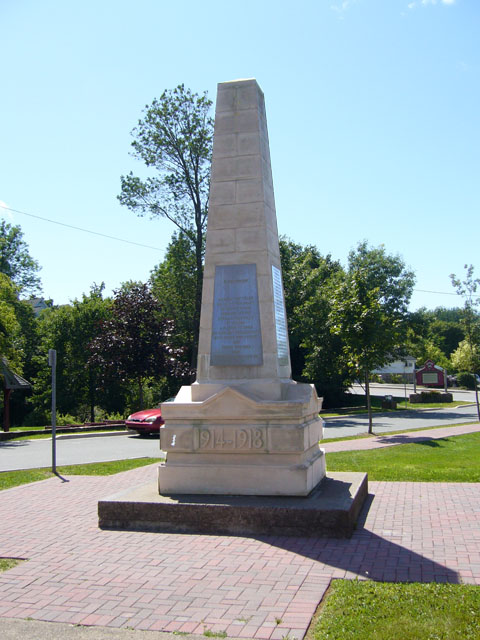 Inscription:
In Memoriam
Against the years
we raise this shaft
of native stone.
Enduring as our
everlasting hills
it stands-
A pledge to show
we have not broken faith
with those who fought
and those who died that
freedom might live on.

Veterans Park, Tracadie »
The Tracadie and District Veterans park is located adjacent to the St. Peter's Parish Church, which is located in Tracadie. The park was unveiled by Warden Herbert Delorey and Reginald Connors on July 20th 2003. The park honors everyone from the Tracadie and surrounding areas that served in the military from years 1914 to 2002.
Veterans Cenotaph , Havre Boucher »
The Havre Boucher Veterans Association was formed in 1987. The purpose for its formation was twofold. First was to spearhead veterans' interest in the erection of a cenotaph as a monument to those who served in both World War I and World War II and second, to hold an annual Remembrance Day ceremony in Havre Boucher. The cost of the project was estimated to be $10,000.00 for the cenotaph only. The base foundation also had to be constructed. As usual in community orientated projects many donations of materials, labour, machinery and cash donations were realized to ensure the successful completion of this project. Other fundraising endeavors included dances and ticket raffles.