A monument is a statue or building erected to commemorate a person or an important, usually historical, event. They are frequently designed as artistic objects to improve the appearance of a city or location. The following pages depict the monuments that have been constructed in the local region.
Bishop John Cameron »

Bishop John Cameron was born on February 16, 1827, in South River. He was the youngest son of John Cameron and Christina MacDonald. He attended Urban College from 1844 to 1854, and was ordained on July 26, 1853. Bishop Cameron was rector and professor at St. Francis Xavier University, as well as pastor of St. Ninian's Parish before becoming Bishop in 1877. He had the name of the diocese changed from "Diocese of Arichat" to "Diocese of Antigonish". While he was Bishop, he implemented and oversaw the creation of many buildings at StFX, however his greatest achievement was the founding of the order of St. Martha's, established on July 29, 1900. Bishop Cameron was very interested in politics, especially from 1877 to 1896. He was known as Cameron the Scholar, the Rector-Priest, the Episcopal Administrator, and as the Politician. He also could fluently speak five languages. Bishop John Cameron died at Antigonish on April 6, 1910, and is buried in St. Ninian's Cemetery.
Sources
"Antigonish Diocese Priests & Bishops 1786-1925" ~ Rev. A.A. Johnston, Litt. D.
"Bishop John Cameron: Piety & Politics" ~ R.A. MacLean
The Tribute to Arisaig settlers was erected by the Centennial Committee of St. Margaret's Parish. It was unveiled by Colin D. Gillis on July 16, 1978. Arisaig, Nova Scotia was named after Arisaig, Scotland by Angus MacDonald. He turned over his land grant to his brother, John 'Ban' Gillis, who became the first permanent settler in 1785. In 1792, settlers built a log cabin church in one day, hoping it would bring in a permanent priest. It was the first church of Catholic Highland settlers, and the second church in the Diocese of Antigonish. The church was officially dedicated in 1793, with Reverend James MacDonald as the first priest. The Parish consisted of 80 miles along the shore from Antigonish to Pictou.
Inscription
Near this spot, in 1792, the
first church of Catholic
Highland settlers in Nova
Scotia was built. The church
was dedicated to St. Margaret,
Queen of Scotland. The first
pastor was Reverend James
MacDonald.
Sources
St. Margaret's Church Centennial Booklet
Place-Names and Places of Nova Scotia
St. Margaret's in Arisaig: Site of Earliest Settlement ~ Rev. A.A. Johnston
Arisaig- A Brief History ~ A.A. MacKenzie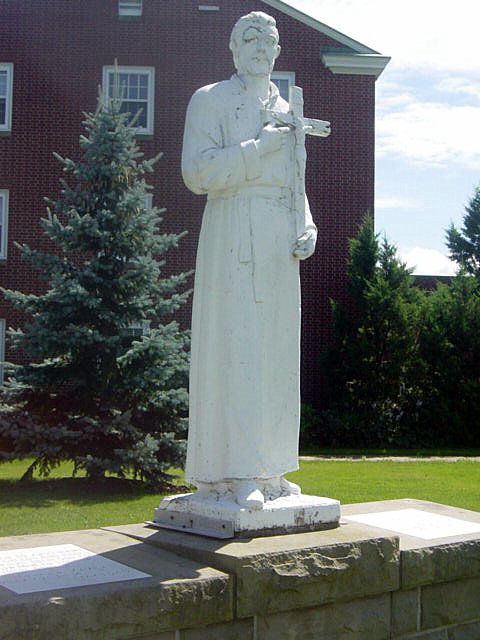 The Saint Francis Xavier statue is located on the Saint Francis Xavier University campus adjacent to the chapel. The statue was donated and erected by the graduating class of 1965. It is dedicated to all Xavierians of all creeds and races. The dedication and erection date is May 13th 1965.
Inscription
Right Side:

"Dedicated to Xavierians
of all creeds and races
who serve their God and
Fellow men to the limits
Of their abilities

St. Francis Xavier
Pray for Them;
Pray for us."

Left Side:

"Saint Francis Xavier
of Antigonish
Donated and erected by
Graduating class
May 13th 1965"

The Senator Edward Lavin Girroir Monument stands at the front of St Peter's Parish Church in Tracadie. The other side of the monument is the Father Hubert Girroir Monument. It was erected on August 6, 2004, by the World Congress of Acadians.
Senator Edward Lavin Girroir was born on August 26, 1871, the son of William Girroir and Anne Lavin. He received a BA at St. Francis Xavier University and a Law Degree at Dalhousie University. He worked in the law office of Sir Robert Borden, who later became Prime Minister. In 1900, 1905, & 1908, he was unsuccessful in running for the Canadian House of Commons as a Conservative candidate in the federal riding of Antigonish. In 1911, he was elected to the Nova Scotia House of Assembly as a Liberal-Conservative representing the riding of Antigonish. On November 20, 1912, Senator Edward Lavin Girroir was appointed to the Canadian Senate as a Conservative representing the senatorial division of Antigonish. He was the second Acadian senator from Nova Scotia. He died while in office on May 8, 1932.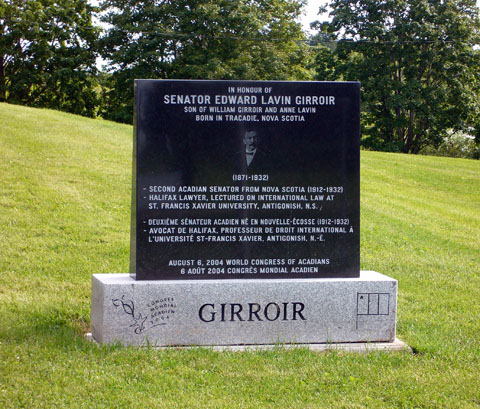 Inscription:
In honour of
Senator Edward Lavin Girroir
Son of William Girroir and Anne Lavin
Born in Tracadie, Nova Scotia
(1871-1932)
Second Acadian Senator from Nova Scotia (1912-1932)
Halifax Lawyer, Lectured on International Law at
St. Francis Xavier University, Antigonish, N.S.
Deuxieme senateur Acadien ne en Nouvelle-Ecosse (1912-1932)
Avocat de Halifax, Professeur de droit international a
l'universite St-Francis Xavier, Antigonish, N-E.
August 6, 2004 World Congress of Acadians
6 Août 2004 Congres Mondial Acadien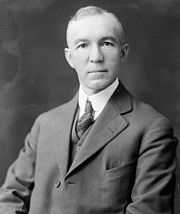 Sources
Acadian Awakenings ~ William D. Gerroir
Parliament of Canada Biography http://www2.parl.gc.ca/parlinfo/Files/Parliamentarian.aspx?Item=5837cabd-0fc5-4f27-9873-d2355abe909b&Language=E
Wikipedia-Edward Lavin Girroir http://en.wikipedia.org/wiki/Edward_Lavin_Girroir