Brief History:
One of the best known Scottish poets to come to Nova Scotia was John MacLean. He was born at Coolas, Isle of Tiree, Argyllshre on January 8th 1787. John was the son of Allan and Margaret MacLean. As he entered adulthood he decided that he would serve as a journeyman in the shoemaker business. He later on went on to marry Isabella Black in 1808. Two years later John was drafted into the British militia. After only serving a few months he decided that he wasn't meant to serve in the army and returned to his home to continue his life as a shoemaker and writing verses. In the year 1818 John published his first book of poetry and songs however it didn't turn out to be very popular. MacLean decided that his life could improve vastly if he moved to the Americas. Therefore in August 1819 John and his family moved to Pictou. After only being in Pictou for a week or two the family settled in a little home in Barney's River. The lifestyle was different for John and caused him to become quite lonely. This loneliness resulted in the poem A' Choille Ghruamach (The Gloomy Forest). In 1831 the MacLean family packed up again and moved to Glenbard. Bard later on went on to write a poem entitled Am Bal Gaidhealach (The Gaelic Ball). He wrote this poem in order to counteract the impression giving off by The Gloomy Forest. While living in Glenbard he mainly focused on writing in Gaelic rather than any physical work that use to use up his precious time. Sadly though in January of 1848 he suffered a stroke while visiting neighbors and immediately passed away. His remains were place in a small cemetery at Glenbard, where a monument now stands as a silent remembrance.
Inscription:
"In memory of Bard MacLean, one of the most famous Gaelic poets
who ever lived in this land. He was born in the island of Tiree, Scotland,
and came with his family to this country in the year 1819. He settles
near this location"
Bishop Colin Francis MacKinnon was born on July 20, 1810, in William's Point, Antigonish County. His parents were John MacKinnon and Una MacLeod. He attended Urban College in Rome from 1829 to 1837. He was ordained in Rome on June 4, 1837. He was the pastor at St. Andrews, and later became Bishop of Arichat. Bishop MacKinnon promoted education. He wanted to establish a seminary because of a need for Catholic priests. The seminary was started in Arichat, and moved to Antigonish two years later. That seminary grew to become St. Francis Xavier University. Bishop MacKinnon is also responsible for the building of St. Ninian's Cathedral. Building started in 1867 and was completed in 1874. Bishop MacKinnon died on September 26, 1879, and was interred in the vault of St. Ninian's Cathedral.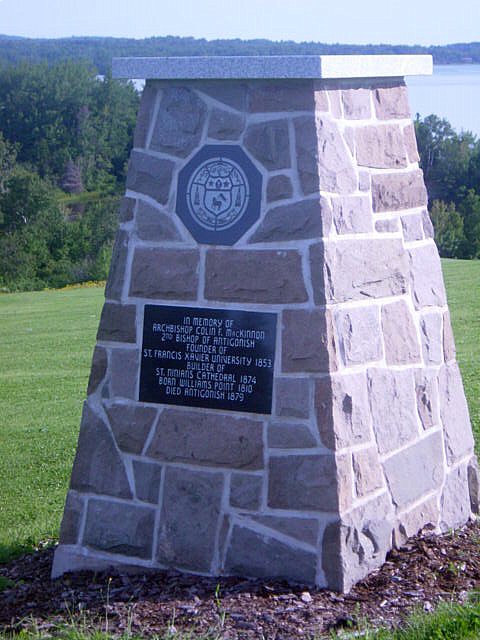 Inscription
In Memory of
Archbishop Colin F. MacKinnon
2nd Bishop of Antigonish
Founder of
St. Francis Xavier University 1853
Builder of
St. Ninian's Cathedral 1874
Born William's Point 1810
Died Antigonish 1879
Sources
"For The People- A History of St. Francis Xavier University" ~ James D. Cameron
"A History of the Catholic Church in Eastern Nova Scotia" ~ A.A. Johnston
"Antigonish Diocese Priests and Bishops 1786-1925" ~ Rev. A.A. Johnston, Litt. D.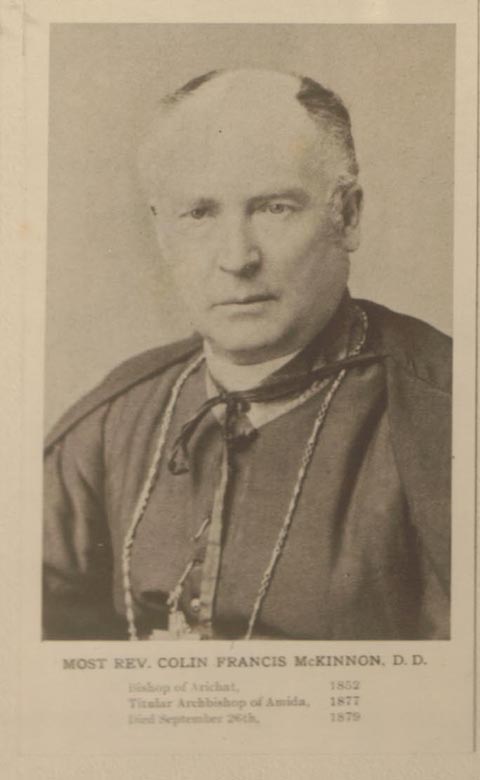 This excerpt (source unknown) depicts the ecclesiastical assignments of Rev. Colin Francis McKinnon.
The Father Hubert Girroir Monument stands at the front of St. Peter's Parish Church in Tracadie. The other side of the monument is the Senator Edward Lavin Girroir Monument. It was erected on August 6, 2004 by the Girouard, Giroir, Girroir, and Gerroir families.
Father Hubert Girroir was born in Tracadie on July 18, 1825. His parents, Joseph Girroir and Angelique LeBlanc, were among the first Acadian families in Tracadie. Father Girroir attended St. Mary's College in Halifax, from 1841 to 1842. He later attended the Grand Seminary of Quebec from 1850 to 1853. He was ordained on February 19, 1853, in Quebec. He was an avid skater, even winning a race against a champion skater, while in Quebec. Father Gerrior taught French and Christian doctrine at St. Francis Xavier College. Until 1860, he was the only Acadian priest in the diocese. He is well known for promoting education and French language & culture, as he was involved in bringing the French-speaking Christian Brothers to Arichat, and supported the Sisters of Notre-Dame. He was pastor at Arichat from 1863 to 1867. He was also pastor at Cheticamp from 1868 to 1875 and Havre Boucher from 1875 to 1883. He died on January 25, 1884, in Havre Boucher.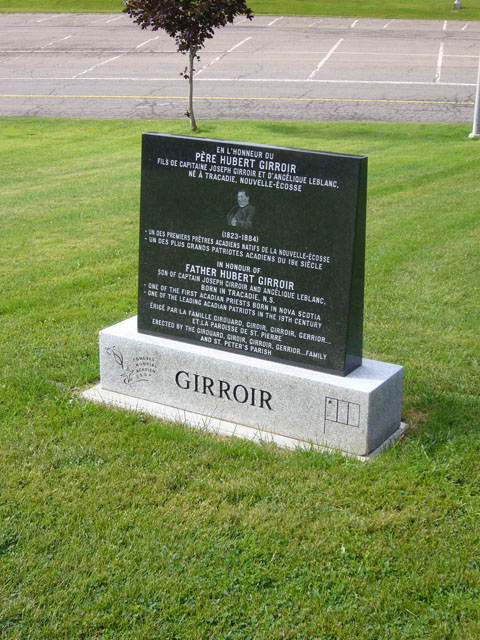 Inscription:
En L'honneur du
Pere Hubert Girroir
Fils de capitaine Joseph Girroir et d'Angelique LeBlanc
Ne a Tracadie, Nouvelle-Ecosse
(1823-1884)
Un des premiers pretres Acadiens natifs de la Nouvelle-Ecosse
Un des plus grands patrioles Acadiens du 19E siecle
In honour of
Father Hubert Girroir
Son of Captain Joseph Girroir and Angelique LeBlanc
Born in Tracadie, Nova Scotia
One of the first Acadian priests born in Nova Scotia
One of the leading Acadian patriots in the 19th century
Erige par la famille Girouard, Giroir, Girroir, Gerroir
Et la paroisse de St. Pierre
Erected by the Girouard, Giroir, Girroir, Gerroir families
And St. Peter's Parish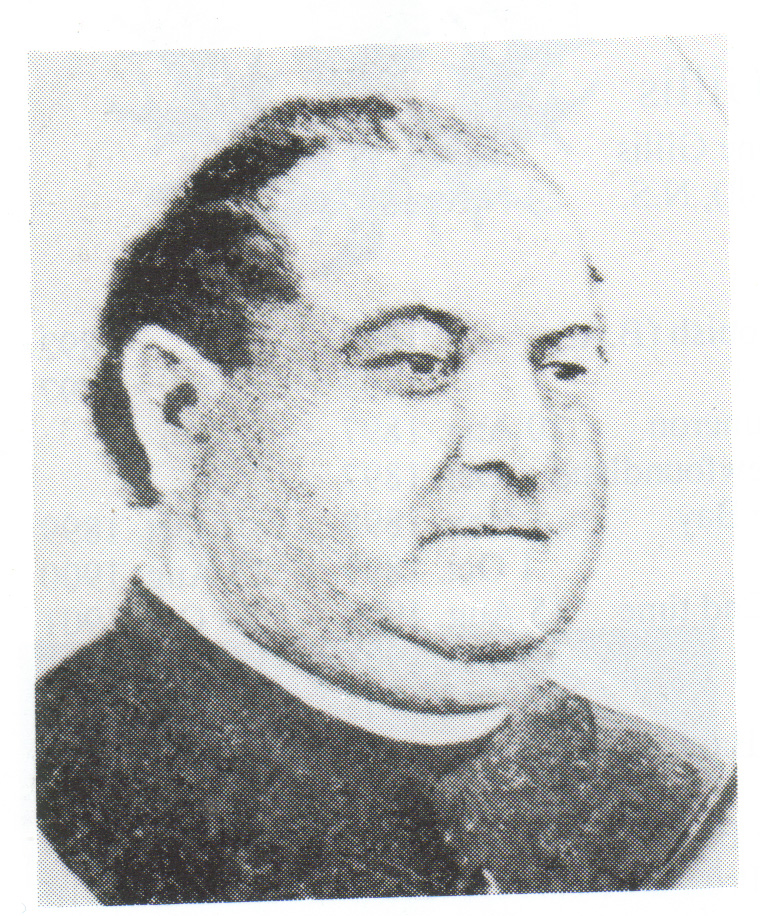 Sources
Dictionary of Canadian Biography XI 1881-1890
Acadian Awakenings ~ William D. Gerroir
Antigonish Diocese Priests and Bishops 1786-1925 ~ Rev. A.A. Johnston
The monument at the Keppoch cemetery stands to commemorate the Immaculate Conception Church which once stood there. The foundation of the church is still on the site. The monument was donated by Reverend A. Kennedy MacLean in 1964.
Keppoch was settled in about 1820. It grew to become a community with sixty four families, a store, a school, two post offices, a church, and a cemetery. Work on the Immaculate Conception Church began in the spring of 1861, and it was originally blessed on October 13th, 1861 by Bishop Colin Francis MacKinnon. The church was destroyed in 1916 by a storm. By the 1930s the school had closed and the last of the community's remaining families had moved down from the mountain.
Inscription
In memory of Celtic Pioneers who
built St. Bean's Church here about 1838
and Immaculate Conception Church in
1861. The high alter of the latter stood on
this site.
Sources
Correspondence between Rev. D J Rankin and R.D. MacDonald.
"From The Keppoch…To The End" ~ J.F. MacLean
Survey Plan: Crown Land
Cross Roads Ohio (Morvan)
Field Plot P-233/87.
Department of Lands and Forests Survey 1987.
Pioneer Kirk Monument »
The Pioneer Kirk Monument was a project of the Kings United Church at Loch Katrine and the Lochaber United Church. It was dedicated on August 19, 2000. The monument was unveiled by Rose Sutherland Carter and Isabel Sutherland Stephens.
Between 1800 and 1869, Gaelic speaking Presbyterians emigrated from Scotland and settled in St. Mary's, South River, Goshen, Polson's Lake, and Middletown. In about 1822, approximately thirty families living in Middletown were granted permission from the Lieut. Governor of Nova Scotia to build a church. The first log church was built in 1837, with service by Rev. Donald MacConnachie. The church was located where the four roads from Middleton, Loch Katrine, Lochaber, and Pinevale met. The Kirk served from 1837 to 1869.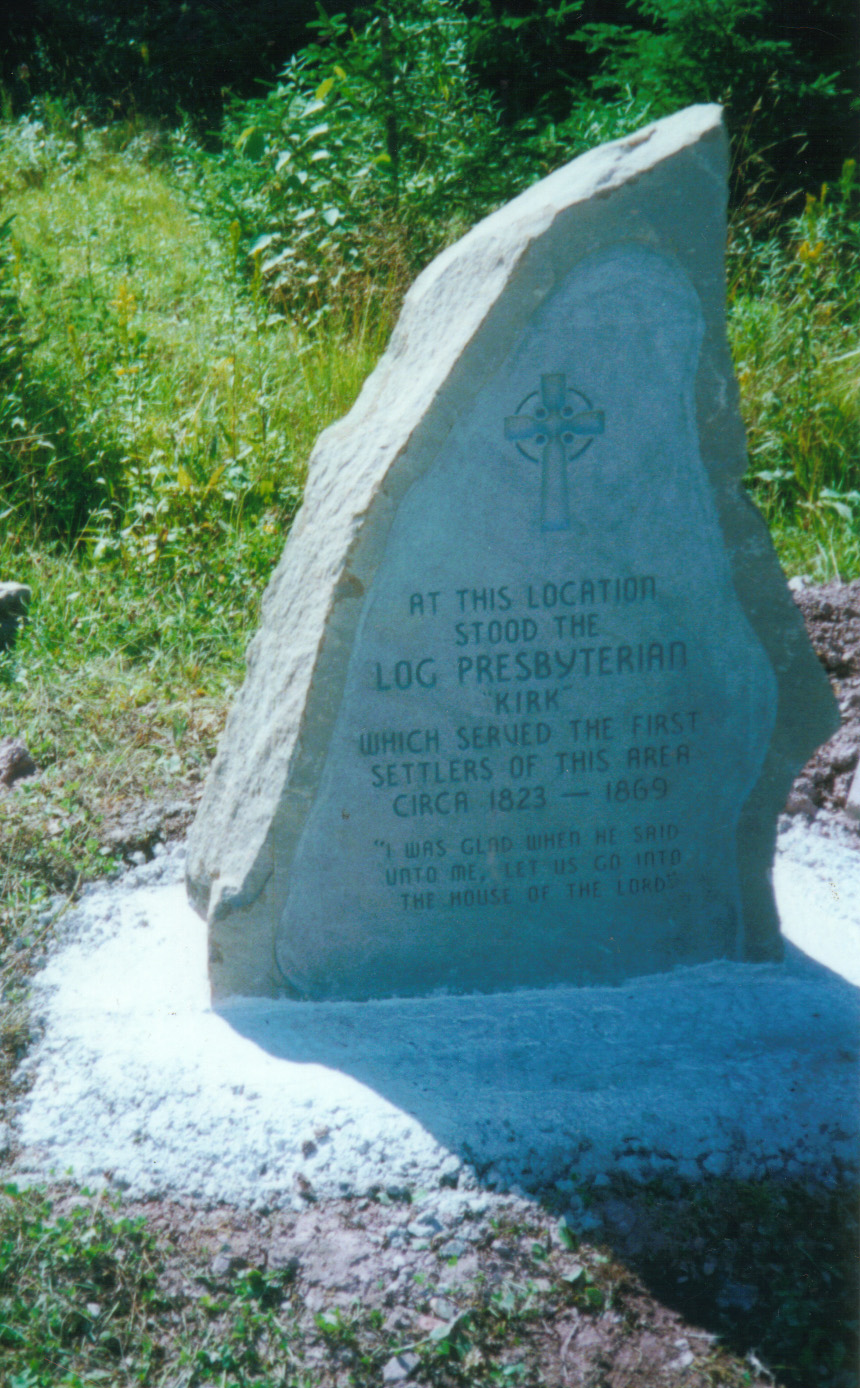 Inscription
At this location
stood the
Log Presbyterian
"Kirk"
which served the first
settlers of this area
circa 1823-1869
"I was glad when He said
unto me, let us go into
the house of the Lord."
Sources
"Ripples From Copper Lake" ~ Rose Sutherland Carter.