The bus stops at the top of the hill at the Trenton Car Works and T.I.L., 1 minute to 3 my watch says, gotta rush down the hill and through the gate, where the guard stands and watches for our badge, even though he knows us by now.

The walk to the door is long, when you have only seconds to spare, oh well, we have a two minute grace period on the clock before we are docked fifteen minutes – after we reach the door, we have stairs to climb, then on the catwalk and finally to the time clock – made it O.K. 1 minute after three – we had fun bowling, Hattie Pitts, Shirley Cooper, Kaye Reid and me. We had to set the pins ourselves, as the pin boys are in school but that's fun too – but its over now as we put our caps on. "Cover your hair" we hear matron Kate Fraser tell us as we head down to our machines – oh, I hope Elsie Johnstone finished that job we were doing yesterday – I'm kinda tired but mustn't let on, as I get my scale micrometers and gauges from Kaye MacDonald in the Store Room. I wonder what kind of cheer Bob Hale is in this afternoon??

My coveralls are clean, and as I have to exchange for one of my gauges, when I come back, my machine handles are all painted with white grease- that darn Johnnie McCarron as I chase him with anything I can get my hands on – the men in the tool room are getting a big kick out of it – Herb Legere, George Coady, Doug Cameron, Tom Gostock & Eddie Gostock. It's all over my hands and coveralls! Such was a working day a T.I.L.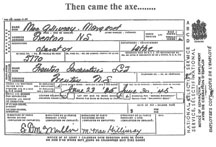 After the war, many girls took up trades: nurses, telephone operators, real estate agents. Some took business courses, others sold life insurance and much more.

I know there are lots of success stories that could be told, but I think one lady who merits special mention in this book because of her devotion to the welfare of so many underprivileged people. Her name is Christine Powell MacDonald Salvage formerly from Egerton, Pictou County – She worked on the thread milling machine and after the war she went back to school, earned a B.S. in nursing and an M.A. in Health Education at which she worked until retirement.

Since then she has done volunteer medical team work in Thailand and Africa. Dec 2, 1987 she set out on another medical journey to the Marshall Islands. She and her team offer medical and dental care to the natives of the small Coral Islands, and on May 28, 1990 left for Kenya, East Africa. Excerpts from her letter that was published in the Gunshop Memory Club newsletter.

We had a most interesting letter from Chris MacDonald Salvage. I am taking the liberty of sharing it with all our Gunshop friends – I hope you don't mind, Chris.

"Dear Friends of Yesteryear: I have been here in Kenya, East Africa for one year, classified as a visiting professor in the College of Nursing at East Africa University. It has been interesting, fortunately the human body is the same the world over, regardless of the colour of the skin. So nursing education is somewhat a universal subject! The students are bright and so eager for an education.

This program is the first degree program being offered in Kenya so is really a pilot project. I am happy to have had a small part in laying the foundation. The campus is situated in the highlands of the northwest corner of Kenya. It is a parcel of some 300 acres given to the S.D.A church for the university – it was formerly a government experimental farm. At 7,500 ft. elevation, the climate is good – much like Hawaii even though we are almost on the Equator. The lowlands are very hot and dry, but here we have a lot of rain – almost daily, and the vegetation is semi-tropical – most common tree is the eucalyptus of the "gum family" – the flowers and shrubs are profuse and colourful all year. We have an agricultural program that is large with a dairy and farms so we have all kinds of fruit and vegetables – many of them strange to me, but I have learned to like most of it.

I will be returning to California the last of June – Graduation here is June 7-8-9, and I will leave that following week – will spend some time as a tourist and visit a couple of game parks and see some of the more exotic animals before leaving Kenya. I do plan to be in N.S. this fall, but not in time for the picnic. I like to see and enjoy the autumn colours – perhaps I can attend one of your monthly meetings. One of my minor claims to fame here is that "I am the oldest living thing on campus" – even most of the ornamental trees are younger. I think that speaks well for my good start – "a childhood in Nova Scotia". I would not trade that for any thing I have seen in the many other countries I have visited. Here in some of the African countries it is the "survival of the fittest", infant and child mortality is very high – those who survive are mostly malnourished and easy victims of any disease that comes along. This year we had a meningitis epidemic, just a glimpse of life in a developing country – count your blessings! Until you have seen conditions in some of these countries, you don't realize how fortunate you are. Very best wishes to all the "gang".

Sincerely, Chris (MacDonald) Salvage, Three Milling Machine
Taken from a story by E. Stewart appearing in their news release of June 30, 1993 here it is:

At 81, Christene Salvage is not about to slow down. She is a registered nurse who has devoted the last 15 years of her life to serving others in some of the most difficult places on earth. She has worked with medical teams in the hot deserts of the Sudan and in the steaming jungles of Cambodia on humanitarian projects for the Seventh-day Adventist World Service.

More recently, Salvage left her Moreno Valley home for five months to join a unique medical mission aboard a giant, 71-foot sailing catamaran Canvasback as it journeyed between the tropical atolls of Chuuk State in Micronesia (better known to some as "Truk").

The trip was sponsored by Canvasback Missions, Inc., a non-profit, Christian organization headquartered in Beicia, California.

Salvage washed in seawater, slept in a tiny upper bunk in the port pontoon, and endured intense humidity at seven degrees above the equator. From sun-up to sun-down she coordinated the work of volunteer doctors and nurses who fly out to the islands to provide dental and medical care and health education to people who have often never seen a physician or a dentist. This was Salvage's third outer island tour with Canvasback, and she returned again in July to assist in a special pilot program in the Chuuk lagoon.

Age has never been a concern for Salvage. "I didn't even start my nurses training until I was 50 years old; then I had a car accident and broke both legs. Eighteen months in a wheelchair was a nuisance, but I didn't let that stop me." She smiles as she moves easily aboard the huge aluminum ship, dodging the sails as the crew tacks the boat. "I'm not as agile as I used to be, but I can still balance on a bobbing boat."

"There are many ways to help people," she says "It's what keeps you young."

One of her mates said: "Nurse Chris Salvage served as a Dental Clinic Coordinator for the entire season in the Islands: I've worked with loggers and I've worked with fishermen but Christene makes those 'Tough guys' look like wimps".

Christene calls Sunnymead, California her home, between her travels.

We take our hats off to you, Christene!